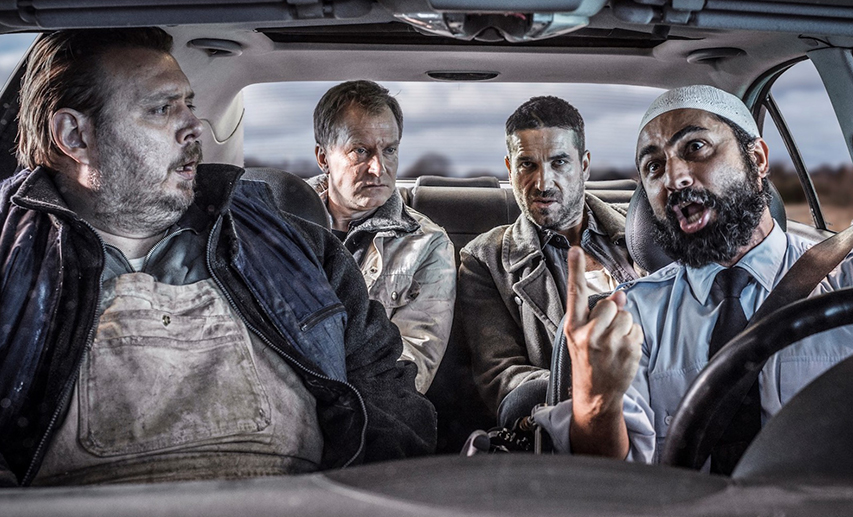 Netflix har idag løftet sløret for at de er på vej med deres første svenske Netflix Original.
Serien, der – indtil videre – blot hedder "Störst av Allt", eller "Quicksand" på engelsk, er skrevet af Camilla Ahlgren, der er/var hovedforfatter på "The Bridge", der her i landet kendes som "Broen" eller "Bron" i Sverige.
En serie, der åbenbart er på vej ind i sæson 4 med premiere 1. januar 2018, som Camilla Ahlgren har skrevet 30 ud af 30 episoder af.
Nu skal hun så til at skrive "Störst av Allt", som produktionsselskabet FLX, der tidligere har produceret "Bonusfamiljen" ( The Bonus Family ) og "The 100-Year-Old Man Who Climbed Out The Window and Disappeared", som de ikke var så venlige at skrive det svenske navn på.
"Störst av Allt (Quicksand) is based on the best-selling novel by Malin Persson Giolito which has been published in 26 countries and was voted Nordic Crime Novel of the year in 2016. When a mass shooting takes place at a prep school in Stockholm's wealthiest suburb, a normal high school student, Maja Norberg, finds herself on trial for murder. When the events of that tragic day are revealed, so too are the private details about her relationship with Sebastian Fagerman and his dysfunctional family.
Störst av Allt" bliver ydermere produceret af Pontus Edgren, der også producerede "The 100-Year-Old Man Who Climbed Out The Window and Disappeared", der går i produktion i 2018.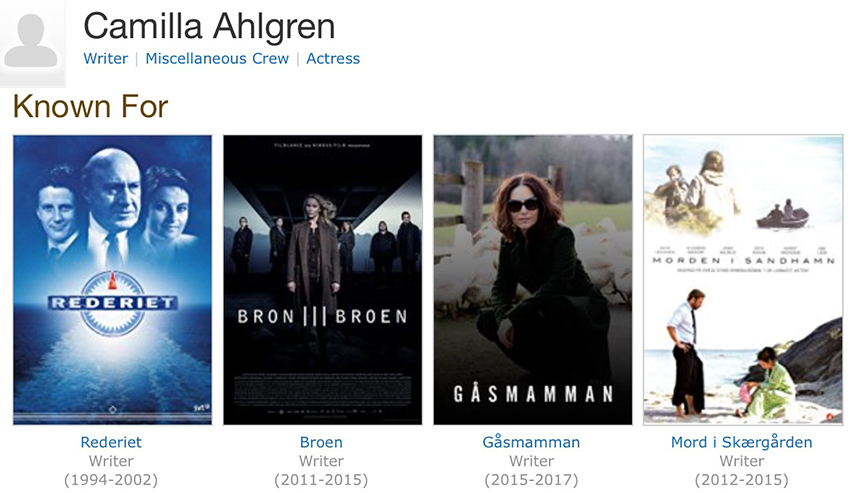 Pontus Edgren siger i den forbindelse:
-Malin Persson Giolito's novel "Störst av Allt" (Quicksand) is an original, fresh and suspenseful drama that we believe will make a fantastic Netflix series. We asked one of Scandinavia's most respected writers, Camilla Ahlgren, to work with us and she was equally thrilled. We're very excited to be collaborating with Netflix to make Störst av Allt (Quicksand) the very first Swedish Netflix original, slutter han.
Forfatteren Malin Persson Giolito, der er forfatter på Störst av Allt, siger:
-We have taken our time to build a team that we can trust to create a great adaptation. I've subscribed to Netflix since the second week it was possible to do so in Sweden, so it's incredibly exciting that Störst av Allt (Quicksand) is becoming a Netflix original series, slutter hun.
Camilla Ahlgren er også glad.
Hun siger:
-It is both a great honour and challenge to work with FLX and Netflix on "Störst av Allt" (Quicksand). I want to tell this story from the main character Maja's perspective; her story raises questions about guilt, responsibility, punishment and redemption. It holds a mirror up to our time whilst also serving as both a suspenseful thriller and a moving love story, slutter hun og bliver suppleret af Erik Barmack, VP of International original series at Netflix.
Han siger:
-Sweden has a tradition of great crime literature and series and we've been looking for something special in this area. We are excited to bring Malin's great novel to life and to work with Camilla, one of the best TV writers globally, starter han og fortsætter.
-We are delighted also to partner with Pontus and the FLX team and believe that Netflix will be the perfect global platform to showcase their talents and continue the canon of great Nordic storytelling, slutter han.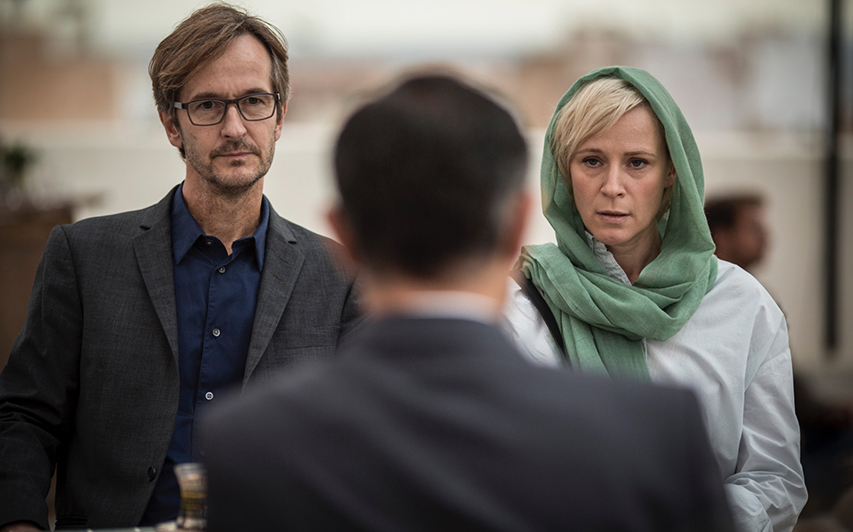 Der er dog også andre Netflix Originals på vej.
Herunder "The Rain", der bliver Netflix første "Danish original".
Her blive det Mikkel Boe Følsgaar, Alba August, Lucas Lynggaard og Lars Simonsen, der kommer til at trække læsset.
Det er nemlig dem der har de ledende roller, i en serie der – formodentligt – får premiere før den svenske, da de fik grønt lys tilbage i juni.
Denne serie følger livet efter en "biologisk katastrofe", hvor seriens is created Jannik Tai Mosholt, der tidligere har været forbi "Borgen", "Rita", "Follow the Money" sammen med Esben Toft Jacobsen "The Great Bear", "Beyond Beyond" og endelig Christian Potalivo, der er kendt fra "The New Tenants", "Long Story Short", der mest er skrivende, for de to sidstes vedkommende.
Jannik Tai Mosholt og Christian Potalivo bilver konkret showrunner og producer, for Miso Film, der er producent.
Herfra kunne du tænkes at kende Jonas Allen og Peter Bose, der begge er executive producers, og kendt for en ang række spillefilm.
Selve handlingen starter efter at jorden er "gået under".
En "brutal virus" har lået næsten alle ihjel, i Skandinavien, hvor to søskene – det til trods – møder andre overlevende, for at finde ud af om der – måske – er en "ny verden derude.
Blandt dem de leder efter er deres fælles far, der måske har svaret på om der findes en verden derude.
Som vi forstår det er de overlevende alle unge, der uden at tidligere at have været forbi "Between", såmænd godt kunne have været forbi denne Netflix serie.
På trods af at jorden er gået under, er problemerne denne gang at der opstår en masse "love, jealousy, coming of age" og "everyday problems", selv om at de måske burde være lidt mere overbærende.
Men nej, sådan er det ikke for Mikkel Boe Følsggard ("A Royal Affair"), Alba August ("Below The Surface"), Lucas Lynggaard Tønnesen ("Tidsrejsen"), Lars Simonsen ("The Bridge", "Brotherhood") og Iben Hjejle ("Dicte", "High Fidelity"), Lukas Løkken ("One-Two-Three Now!"), Angela Bundalovic ("Blood Sisters"), Sonny Lindberg ("When the Sun Shines"), Jessica Dinnage ("The Man") og endelig Johannes Kuhnke ("Force Majeure")
Optagelserne bliver forestået i Danmark og i Sverige, da det er vildt svært at finde særligt meget "jorden er gået under natur" ude på vestegnen.
Kenneth Kainz, der tidligere har instrueret ("Dicte", "The Shamer's Daughter") og Natasha Arthy ("The Killing", "Fightgirl Ayse") instruerer.
Erik Barmack, Vice President of International Original Series at Netflix siger:
-Scandinavia is known around the world for intriguing storytelling and captivating TV. We are excited to be working with such fine local actors, writers and directors to bring a big, fresh premise to a global audience, slutter han og bliver suppleret af Jannik Tai Mosholt, der siger:
-Civilization is very fickle. It's a thin layer spread out over thousands of years of basic survival. And now, after a sudden burst of inspiration, we humans believe that we have it all under control. I want to find out whether this is true. What is left of us when civilization is stripped away in an instant. How do we survive? Do we go back to being animals or do we rise to the occasion, insisting on bringing humanity into an inhumane world. I am so thrilled to be making this show with Netflix and Miso Film, and I couldn't be happier with the cast and can't wait to put them in a post-apocalyptic Scandinavia, where all the straight lines of the controlled North have shattered, and let uncontrolled nature take over everything, slutter han.
Selv Norge er på vej med flere Originals.
Som vi husker det, var Norge først, for så lang tid siden at det faktisk var før Netflix begyndte at kalde deres serier for Originals.
Nu er de så på vej med mere.
Denne gang bliver det en Engelsk/Norsk produktion, skrevet af Hania Elkington og Simon Duric.
Serien har indtil videre intet navn, men bliver produced af New Pictures ("The Missing"), med Charlie Pattinson, Elaine Pyke og Willow Grylls i spidsen.
Farren Blackburn er executive producer sammen med Pattinson, Pyke og Grylls, der ydermere instruerer seks af de otte episoder.